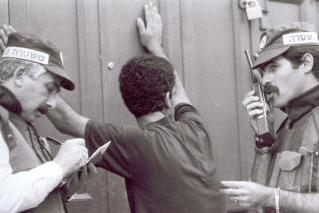 Police6-by-Yoav-Loeff
In the Knesset's Constitution, Law and Justice Committee hearing today the Minister of Public Security rejected a proposal to pass the bill as a temporary measure. If the purpose of the bill is security, as the government claims, then a time limit should have been imposed until calm has been restored in the area. The proposal was made by the legal advisor of the Committee. This is proof that the police and the Ministry of Public Security are exploiting citizens' fear of terrorism to promote this harmful law. The claim that the law is necessary for security reasons is undermined by the rejection of the proposal and the fact that the police have been promoting this law for 5 years.
Today several members of the Knesset made it clear that they will not contribute towards harming the human rights of individuals and minority groups, and they succeeded in postponing the hearing decision. In recent weeks ACRI has expressed concern that the law will lead to unacceptable profiling and discrimination of the Arab, Ethiopian and Mizrahi minority communities. International experience demonstrates that in countries with similar legislation – where police have wide discretion, in the absence of clear criteria – police rely on prejudice and stereotypes.
"The government insists on passing the law as 'one package' under the auspices of the security situation, and to avoid the dangers that would arise from a proper discussion of the law and the claims made against members of the Knesset, from both the coalition and opposition," said Senior Attorney Avner Pinchuk.
ACRI calls on the members of Knesset to reject this bill and to maintain our right to be in the public sphere without being harassed, in the absence of reasonable suspicion.
Watch and share ACRI's video about the Stop and Frisk Bill, November 2015:
ACRI's petition to the Constitution, Law and Justice Committee (in Hebrew), November 2015.