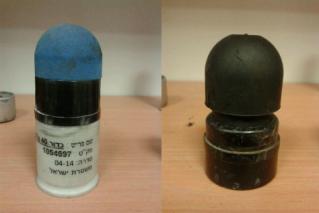 On right - old black bullets. On left - new blue bullets.
On Sunday, March 8, 2015, ACRI contacted the Chief Police Commissioner and the Attorney General to demand that they immediately order an end to the use of black sponge-tipped bullets until a full inquiry has been made into their safety. This renewed demand comes in response to a series of serious injuries suffered by East Jerusalem residents since the introduction of these new bullets.
In July 2014, police forces introduced a new type of sponge-tipped bullets for use in dispersing riots and demonstrations in East Jerusalem. Prior to that time, police forces used blue sponge-tipped bullets that are softer and lighter than the new variety. Although sponge-tipped bullets are designed to temporarily neutralize rioters with a blunt strike, East Jerusalem residents have suffered a number of serious injuries since the introduction of the black bullets, including the loss of vision and broken bones. Through the testimonies that we have collected, we have identified a number of serious injuries including four youths who were struck in the face and suffered a loss of vision in one eye; two cases of fractured jaws and lacerated faces; a girl who suffered a ruptured spleen; and a man whose hand was broken.
These cases follow the tragic death of 16-year old Muhammad Sunqrat who was shot dead by one of the black sponge-tipped bullets in September 2014.
ACRI Attorney Anne Succiu explained in the letter that these injuries are unacceptable and cast doubt upon the utility of these weapons in dealing with civil disturbances. The quantity and severity of the injuries necessitate an immediate halt to the use of these bullets subject to a thorough examination into their safety, regulations for their use, and their suitability as a non-lethal means of riot dispersal. Furthermore, it is worth considering the imposition of similar restrictions on the use of black sponge-tipped bullets as currently exists for rubber bullets. These restrictions include prohibition of their use except in extraordinary circumstances with the explicit approval of the Chief Commissioner.
Additional Materials
To read the full letter to the Chief Commissioner and Attorney General (in English), click here.
For further information about ACRI's activities on this topic, click here.
To read ACRI's Report to the UN Special Rapporteur on the use of Less-Lethal Weapons in East Jerusalem, click here.