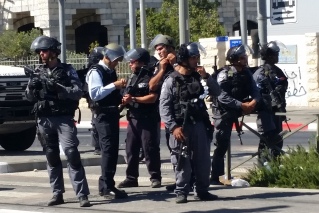 Photography: Hussam Abed
Update: On July 30, 2014, the Ministry of Justice contacted Israel Police to request that they immediately respond to the allegations raised in ACRI's letter and provide additional details on the incidents in question in order to determine how best to proceed on the matter. (Full letter attached below)
On July 16, 2014, ACRI wrote to Police Commissioner Yohanan Danino owing to a series of reports of violent attacks by police forces against Palestinian residents of East Jerusalem over the last two weeks.
The letter, sent by ACRI Attorney Yusef Karram, described incidents that included physical violence, the use of foam-tipped bullets that caused severe harm against police regulations, the unreasonable use of tear gas in residential neighborhoods, the spraying of "skunk odour" towards homes and shops in a manner that raises concerns regarding collective punishment and damage to property, and more.
One of the incidents outlined in the letter told the story of 21 year old Maghad Zayd Rabhea, who avoided being intentionally run over by a man who appeared to be Jewish at the French Hill Junction. He testified that even though there were police present at the scene, they did not intervene, and only came forward once nearby Palestinian residents accosted the driver. Maghad was severely beaten and taken to Hadassah Hospital for treatment.
The letter additionally outlines a number of testimonies regarding the impact of the use of foam-tipped bullets as a crowd dispersal mechanism. Police procedures warn that aiming this weapon at the upper body can be dangerous, and yet the number of incidents in which the bullets hit the faces of residents and journalists raises concerns that this weapon is being used against regulations. In one case, Taysir Sandouka, 30 year old resident of Shuafat who suffered from a visual impairment, was hit in his good eye with a foam-tipped bullet. Now, he may lose his sight completely.
At least three journalists have been injured in Jerusalem by this weapon in the last two weeks – photographer Tali Mayer was hit in her face, CNN correspondent Ben Wedeman was hit in his head and WAFA journalist Christine Rinawi was hit in the upper body.
According to ACRI Attorney Yusef Karram: "These disturbing reports raise concern that police officers are exceeding their authority to a dangerous and illegal level. The fear of police retribution has meant that many residents have avoided filing a complaint. This means that the intervention of the police is even more essential in order to fully eradicate this phenomenon.
Additional Materials
To read the full letter in English – click here.
To read the full letter in Hebrew – click here.
To read the response from Israel Police (in Hebrew) – click here.
To read the response from the Ministry of Justice (in Hebrew) – click here.