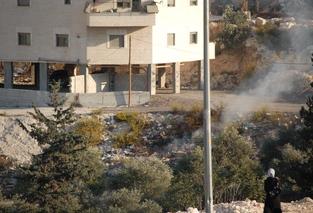 Issawiya, East Jerusalem. Photography: Michael Solsbery
On Monday, October 27, 2014, the Association for Civil Rights in Israel sent a letter to the Jerusalem District Commander of Israel Police to caution against the use of disproportionate measures by police forces in recent weeks against the residents of the East Jerusalem neighborhood of Issawiya. The letter, sent by ACRI Attorney Anne Suciu notes that the police's drastic actions have harmed freedom of movement, caused severe injury to large numbers of residents, including children, and caused extensive damage to property.
The letter notes that police forces have been making extensive use of stun grenades and tear gas in Issawiya – a particularly crowded residential neighborhood. According to testimony collected by ACRI, stun grenades have been flung into residential buildings containing families with young children. In some cases, children have been forced to receive medical assistance. There is an additional concern that expired tear gas canisters have been utilized, posing a further hazard to the health of residents exposed to the gas. ACRI is in possession of several used canisters that were used in the Jerusalem neighborhood during the last week, upon which the date of manufacture is listed as 2001 with a warning that all canisters "be used within 5 years of production."
Apart from the tear gas, ACRI is aware that police forces have begun employing a new type of 'sponge bullet' that causes far more serious bodily damage. It has been alleged that it was these new bullets that caused the death of a 16 year old boy – Muhammad Sunqrat – in September. There have been several other recent cases of serious injury resulting from the use of these bullets.
During the last two weeks, police forces have increased their use of "skunk spray vehicles" inside the residential neighborhood, during which time they have sprayed the repellant skunk liquid onto shops and homes, causing widespread damage to property and upsetting the daily routine of thousands of residents. ACRI's letter to Israel Police includes testimonies from residents whose shops and homes were damaged by the skunk liquid.
ACRI further noted in the letter that for five consecutive days – between Wednesday and Monday (27/10/14), police forces blocked off the central access road to Issawiya, together with two alternative routes. This meant that the neighborhood, containing 15,000 residents, was left with only one minor access route on the south-eastern side, at which traffic and border police conducted inspections all through Monday morning. Blocking the access roads to the neighborhood has caused enormous disruptions to the lives of neighborhood residents, complicated travel to school for students and school children and impeded the entry of emergency services into the area. Only yesterday, after five days of continuous obstructions, was the central access route to the neighborhood opened.
According to ACRI Attorney Anne Suciu: "These unreasonable measures adopted in the neighborhood of Issawiya in recent weeks are causing severe harm to innocent residents. While it is clear that the police must confront civil disturbances, they must not act in such a way that it constitutes collective punishment for all residents of the neighborhood."
Additional Materials
To read the full letter (in Hebrew), click here.
For past communication between ACRI and Israel Police regarding Issawiya, click here.
For further information on the use of Skunk Spray in East Jerusalem, click here.