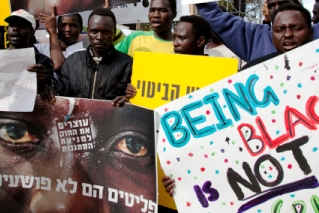 Photo by Tom Raviv
"The prolonged imprisonment of asylum seekers in administrative detention is unconstitutional. The Anti-Infiltration Law is overturned."
Today (September 16) an expanded panel of nine Supreme Court Justices ruled that the Third Amendment to the Law for the Prevention of Infiltration is unconstitutional and must be overturned.  Over 2,000 women, men and children are currently being held in harsh conditions without trial under the amendment, which was passed in January 2012.
Despite the fact that most of the detainees are asylum seekers, and despite the fact that Israel recognizes that in the vast majority of cases deportation would put their lives in danger, the amendment called for their imprisonment en masse.
The Supreme Court ruled that administrative detention of this sort violates the Basic Law: Human Dignity and Freedom and that the state must examine each of the detainees' cases individually within 90 days and release all those who are entitled to release under the Law of Entry to Israel.  Unlike the Anti-Infiltration Law, The Law of Entry to Israel does not allow extended detention of persons against whom deportation proceedings are not underway.
The ruling was issued on three cases that were joined by the Court: a petition to the High Court of Justice filed by Attorneys Oded Feller (Association for Civil Rights in Israel (ACRI), Yonatan Berman (Clinic for Migrants' Rights at the Academic Center of Law and Business in Ramat Gan), Asaf Weizman (Hotline for Migrant Workers) and Anat Ben Dor (Refugee Rights Clinic at the Tel Aviv University Faculty of Law); an appeal filed by Attorneys Berman, Omer Shatz and Yiftach Cohen; and an additional appeal filed by Attorneys Tomer Warsaw, Yael Rothschild, and Orit Ronen.
Attorneys Yonatan Berman and Anat Ben-Dor: "The Supreme Court ruled today what should have been taken for granted.  Administrative detention of asylum seekers cannot be used as a method of deterring immigration.  It is regrettable that the state has imprisoned thousands of people for a year and a half in unacceptable conditions without justification for their arrest.  We hope that from now on the state will understand that asylum seekers are human beings who must be treated as such, and begin granting them rights."
For more information about the Law to Prevent  Infiltration and the petitions filed against it, click here.

currentVote
noRating
noWeight