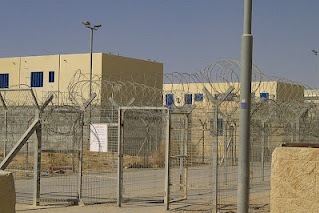 Saharonim Detention Center
State submits affidavit following High Court order to provide information on alleged arrangement with a foreign country to resettle asylum seekers currently in Israel
The state yesterday (June 9, 2013) complied with an order of the High Court of Justice to provide additional information about an alleged arrangement with a foreign country to resettle asylum seekers currently in Israel.  The state was ordered to provide this information after last week's hearing on a petition to overturn the Law to Prevent Infiltration, during which the State Attorney attempted to portray the automatic detention of illegal immigrants as a stopgap measure that will be alleviated by a forthcoming arrangement with an undisclosed third country.
The State's response was based on an affidavit submitted by Hagai Hadas, the Prime Minister's special envoy for the resettlement of asylum seekers.
Attorney Yonatan Berman of the Clinic for Migrants' Rights at the Academic Center of Law and Business in Ramat Gan, who represented the petitioners – seven human rights organizations and five Eritrean asylum seekers, responded:
"Just last week the State Attorney declared before the High Court that an 'agreement' with a third country to absorb the asylum seekers currently being held under the Law to Prevent Infiltration had been reached. Now, after the state has been required to provide additional details, it is apparent that the State Attorney's remarks were, to put it lightly, imprecise.
"The formal 'agreement' announced confidently in the courtroom turns out to be an abstract general understanding.  Hadas' affidavit indicates that what was referred to as an agreement is in fact a multi-year program, and that it is unclear when, if at all, this program will be put into practice, or to whom it will apply.
"This is nothing more than a smokescreen designed to sanction the prolonged detention of asylum seekers in Israel."
Further information
To read the state's response in full (in Hebrew) click here
Press Release: High Court of Justice hears arguments on Anti-Infiltration Law
Press Release: High Court of Justice to State: Explain legality of Anti-Infiltration Law