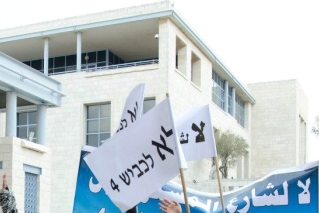 Protests at Safra Square. Photography: Nasr Ktab
Residents of Beit Safafa in Jerusalem who have been leading public protests against the construction of a highway in their neighbourhood over the last few months, have recently discovered that the demonstrations they had planned required the approval of the city council – the group against whom they plan to demonstrate.
Association for Civil Rights in Israel – the requirement to obtain approval from the municipality is illegal.

Jerusalem police announced to activists from Beit Safafa who requested a license to conduct a demonstration at Safra Square, that the plaza is owned by the council, and therefore organizers must contact the municipality to receive permission to protest – even if the protest is against the council itself. Such conduct is against the law, which makes clear that the police is the only authority with jurisdiction to permit demonstrations, and that it is not within the power of any local authority to refuse or impose conditions upon any public space for the purpose of holding demonstrations.
The protest in Safra Square is designed to pressure the Jerusalem Municipality and the Department of Transportation to halt the construction of a 6-lane highway planned to cross through the heart of the neighborhood. The section of Route 4 that will cross Beit Safafa is an extension of the Begin Expressway and connects the road to the southern exit of Jerusalem in the direction of the Tunnels Road and Gush Etzion. The residents' protests over the last few months demand a reduction in the enormous scope of the planned expansion due to the expected harm to the residents.
In letters to the legal counsels of the Jerusalem Municipality and the Jerusalem branch of Israel Police sent by ACRI Attorneys Sharona Eliyahu-Chai and Nisreen Alyan, it was made clear that according to the law and in accordance with explicit instructions of the legal counsel to the police, the authority to license protests rests in the hands of the Israeli Police, and their hands alone. Consequently, the Jerusalem Municipality does not have any legal authority to approve or deny demonstrations. In addition, the municipality clearly announced to activists from the neighbourhood that "lacking a police permit, the demonstration is not authorized" – this despite that it was a protest vigil for which the law does not require a license from the police at all.
Attorney Alyan: "the law very clearly states that the sole relevant authority to contact for the purposes of conducting a demonstration – to the extent that a demonstration requires a license – is the police, and it is the police's responsibility to ensure that the demonstration does not disrupt public order to an unacceptable degree. The involvement of local politics in obtaining a license to conduct a demonstration is a sure recipe for the violation of freedom of expression."