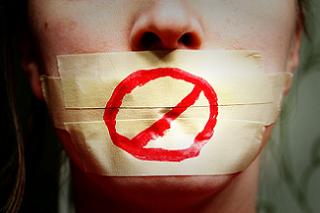 Photo: CC-by-ND - Jennifer Moo via Flickr
The Silencer: Libel Litigation as a Threat to Free Speech
A new report by the Association for Civil Rights in Israel exposes how the court has become a mechanism for silencing criticism.
Social and environmental activists, bloggers and people who are active on Facebook are already familiar with the phenomenon of powerful forces – contractors, politicians, tycoons – that don't hesitate to threaten libel suits and sue those who fight them.  Whether defamation actually occurred is not important, and a large difference between the defendant's statement and the scope of the claim, including the amount sought as compensation, is equally unimportant to those that employ this tool
ACRI's report – The Silencer: Libel Litigation as a Threat to Free Speech – highlights a phenomenon that has been growing steadily over the last decade. Powerful forces using baseless and frivolous libel claims, inflated with empty threats of prosecution, as a tool to silence activists that are fighting with them. For large companies or wealthy individuals, the cost of a lawsuit is minimal. For the ordinary citizen waging a struggle, or commenting about them on Facebook, grappling with the complexities of the law and defending themselves against a lawsuit is intolerable. The result: vital critiques of issues of public importance are silenced.
According to the author of the report, ACRI Attorney Avner Pinchuk, "we are increasingly witnessing libel claims with a weak or even outlandish basis, yet which are an effective silencing measure against social and environmental activists who speak on matters of public importance. Though the court seeks in the course of the trial to maintain a balance between freedom of expression and the right to maintain one's good name, it fails to see the big picture.
Attorney Ishay Shneydor, who represents defendants and those threatened by this phenomenon, and who also took part in writing the report, added "suing for libel, or writing a letter threatening such a suit, is an inexpensive procedure through which powerful forces succeed in deterring civic participation, placing their critics in a defensive position and preventing or dampening public dialogue on issues of importance. If we don't recognize this phenomenon and develop tools to deal with it, then we are abandoning the public and strengthening those who have the power to silence their opponents."
The report provides a comprehensive analysis of the reasons why libel suits, or threats thereof, have become such an effective tool under Israeli law for stifling criticism. It reviews numerous cases of libel lawsuits and threats of prosecution based on frivolous claims against social and environmental activists, bloggers, journalists, employees and others. The report concludes by listing a number of steps that can be taken, both in the legal and public sphere, to reduce the 'chilling effect' of libel litigation on freedom of speech.
To read the full report in Hebrew, click here.
To read an executive summary of the report in English, click here.