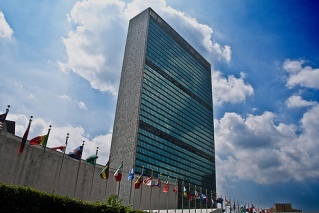 The UN building, CC-NC-SA by: Oriol Segarra
The Chairman of the Palestinian Authority, Mahmoud Abbas, recently announced that on 29 November he intends to turn to the United Nations General Assembly, requesting to upgrade the Palestinian Authority's status in the UN from an "observer entity" to a "non-member observer state." This initiative follows the Palestinian bid to the UN Security Council in September 2011, asking to admit Palestine to the UN as a state – a request that was not yet discussed by the Council.

As in the previous bid, this, too, is a political move intended to increase and enhance international recognition of a Palestinian state within the 1967 ceasefire borders. This move raises many questions regarding its potential implications, in general, and on the state of human rights in the region, in particular. As a human rights organization, ACRI does not take a position on peace-process policy questions. However, since the political changes in the region may have significant implications with regards to specific human rights questions, we tried to outline some of the expected impacts on human rights issues in this context. To read a similar briefing published by ACRI ahead of the previous Palestinian UN bid in September 2011, click here.


1. How is the current initiative different from the previous one?
2. What is the meaning of being upgraded in the UN to the status of an "observer state"?
3. Would the current UN initiative change Israel's status in the West Bank and in the Gaza Strip? How about an Israeli recognition of a Palestinian state in temporary borders (Areas A and B)?
4. Would this initiative have an effect on the validity of the Oslo Accords?
5. What are the implications of this move on the Palestinian state's responsibility for human rights violations?
6. Would this move lead to the involvement of new international enforcement mechanisms?
7. What are the implications of this initiative on Israeli settlements?
8. What are the implications of this move on the Palestinian state's responsibility to prevent terrorism and threats?