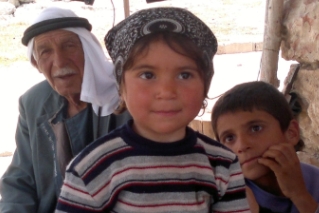 The High Court decided on 27.9.2017 to delete ACRI's petition to stop demolitions of Palestinian residences in the village of Khirbat Zanuta in Area C of the West Bank. The High Court verdict concluded that the existing demolition orders against homes and structures in Zanuta village will not be carried out so long as the military is still deliberating introducing changes to its planning criteria in Area C.
To read the High Court verdict in Hebrew, click here
Background
Khirbat Zanuta is a small Palestinian village in the southern hills of Hebron, whose 27 families earn their living by husbandry of sheep. The village has been settled for several generations, dating to a time well before Israel's occupation of the West Bank in 1967.  Historically the villagers lived in natural caves augmented by stone entryways, but sometime in the 1980's, most of these caves became uninhabitable.  The villagers now live in stone houses covered with tin and plastic roofs and in other temporary structures, and use the caves, along with external pens, to shelter their sheep.
In 2007, the Civil Administration issued demolition orders on the majority of the buildings in Zanuta. The State's position is that the structures are illegal because they were built without permits (or subsequent variances). But there is no way the villagers could have received permits since there is no master plan for the village. The Civil Administration claims that there is no justification for a master plan that would incorporate Zanuta, citing, among other things, the village's small size, the existence of archeological ruins on the premises, and the relatively long distance between the village and the town of Dahariya.
To learn more about Khirbet Zanuta and ACRI's petition, click here