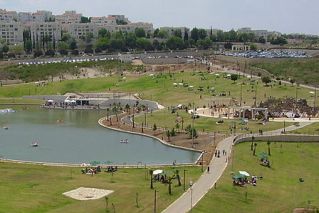 Anava Park, photo by Dr. Avishay Teicher
Today (30 October 2012) the Association for Civil Rights in Israel (ACRI) sent a letter to the Mayor of Modi'in, Haim Bibas, demanding that he terminate the city's policy of restricting entrance to the Anava Public Park during parts of the year.

The municipality of Modi'in-Macabim-Reut enacted the policy, which prohibits nonresidents from entering the park during the summer months and on holidays, shortly before the Sukkot holiday in October. Despite the official rationale for the policy – overcrowding in the park – the municipality's actions raise suspicion that its true purpose is to exclude ultra-Orthodox Jews from the neighboring city of Modi'in Illit.

This is not the first time a local authority tried to restrict entry to public parks. In 2000, the Israel Union for Environmental Defense filed a petition against the Ra'anana municipality after it began charging nonresidents an entrance fee in one if its city parks. Following the petition, the Israeli law was amended and a clear ban on charging entrance fees to public parks was established. Further discussions in the Knesset emphasized that the purpose of the amendment was to regulate access to public parks for the enjoyment and benefit of the entire public.

Some months ago, ACRI wrote a letter to the municipality of Kiryat Ata, after learning that the city was charging nonresidents entrance fees at its public park. In that case, the suspected purpose of the policy was to prevent the entrance of Arabs from nearby communities.

The letter to Modi'in Mayor Bibas, written by ACRI's Chief Legal Counsel, Attorney Dan Yakir, warns that the restriction is illegal, as it violates the right to equality and in practice constitutes prohibited discrimination against a religious group. Although the municipality procured a legal opinion from Professor Ariel Bendor that sanctions the policy, ACRI disagrees with the opinion's conclusions.

Attorney Dan Yakir: "The fact that the park was built on municipal land does not mean that the municipality can do whatever it wants with it. Public space, as its name implies, is intended for the entire public. It is unacceptable for local authorities to attempt to restrict the public's ability to access parks under their control. "

To read ACRI's letter (in Hebrew) click here.