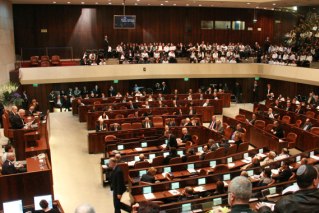 The Knesset plenum, photo by Itzik Edri
The Knesset's winter session opened only a week ago, and is already continuing to promote concerning anti-democratic legislation. As ACRI has indicated last week, this Knesset session is likely to be focused on two competing, contradictory trends. Sadly, it seems that in one short week, the Knesset has so far made a clear, unfortunate choice: rejecting legislation advancing social justice – and forging ahead with anti-democratic bills.

A few days ago, the coalition managed to defeat and reject all bills presented for advancing social and economic rights; yesterday, the Knesset plenum almost voted in a first reading on a bill that seeks to raise sixfold the fine paid for libel without proof of damages – an amendment that will have severe repercussions on freedom of press and freedom of expression (the vote was postponed to next week); and also yesterday, it was announced that this coming Sunday, the Ministerial Committee on Legislation will vote on two bills that are intended to curtail the work of Israeli civil society organizations by severely restricting their international funding – one tabled by MK Ofir Akunis (Likud) and the other by MK Fania Kirshenbaum (Yisrael Beitenu). According to Israeli media, both bills are backed by Prime Minister Netanyahu.

These two bills (see details below) are part of an ongoing attack on Israel's civil society and human rights organizations, targeting our international funding as a tactic to silence us. ACRI continues to oppose these dangerous bills, and hopes that the Ministerial Committee on Legislation will reject them.

The first bill, officially titled "The Associations Law (Amendment – Banning Foreign Diplomatic Entities' Support of Political Associations in Israel)," attempts to set monetary limitations on Israeli human rights organizations. According to this bill, an Israeli NGO that seeks to influence state policies would not be allowed to receive donations of more than 20,000 NIS (roughly $6000) from foreign state entities. The bill was set to be discussed by the Ministerial Committee in July, but the Israeli media reported that Prime Minister Netanyahu postponed it in order to quiet down the local and international outrage following the approval of the Anti-Boycott Law.

A similar bill, which seeks to amend the Income Tax Order so that funding from foreign state entities to Israeli NGOs will be subject to a 45% taxation rate, was put on hold in July by its promoter, MK Fania Kirshenbaum (Yisrael Beitenu). At the time, MK Kirshenbaum announced that she will postpone the bill until the parliamentary committees of inquiry, which are supposed to look into the foreign funding of Israeli NGOs, will finish their investigation. However, the committees of inquiry were then rejected by the Knesset, and MK Kirshenbaum is now returning to promote this bill.

To read the current version of the Akunis Bill (in English), click here.
To read the current version of the Kirshenbaum Bill (in English), click here.

ACRI's Executive Director, Hagai El-Ad, said today: "Once again we see biased legislation, whose real purpose is to harm Israeli organizations that are inconvenient to the current government. However, in a democracy freedom of expression, protest, and assembly must be afforded to the entire spectrum of opinions and positions, not only to those that are approved by the government.

"Even more outrageous is the claim that donations received from countries that have long-standing, deep relationships with Israel, donations that are intended to promote democracy and human rights, are illegitimate – while at the same time many governmental and private bodies receive much greater sums of international donations that are not currently set to be restricted, simply because they serve the positions of the current political majority."