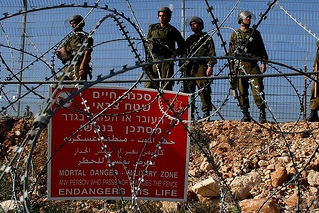 Soldiers outside Bil'in. Photo CC-by-NC-SA, Jill Granberg
ACRI has written to the Commander of the Judea and Samaria Division and to the Commander of the Judea and Samaria Border Police, following three incidents in which Palestinian residents and Israeli and international activists were denied the right to demonstrate and protest, through a failed and illegal use of orders proclaiming a closed military zone. Both the decision to issue the orders and the implementation of the conditions for executing them were illegal and flawed.

In her letter, ACRI attorney Raghad Jaraisy notes that security forces had no authority to use the closed military zone order in any of the three occasions, and that the conditions for applying the order did not exist in any of these occasions; all the more so considering all three were peaceful and non-violent protests, which caused no concern that violent confrontations or riots of any kind may erupt. This raises the concern that forces on the ground operated under the assumption that their duty is to prevent the protests, a purpose for which they used the closed military zone orders in a flawed and illegal manner.

Jaraisy further notes that considering the special status of freedom of speech and the right to protest, it is clear that the State of Israel and the security forces operating on its behalf are obligated to respect and to protect the freedom of speech and right to protest of the Palestinian residents, as well as those of the Israeli and international activists who seek to participate in protest actions and demonstrations in the Occupied Territories. Therefore, clear instructions must be issued to all security forces, clarifying not only their duty to respect and to protect the right to protest in the Occupied Territories, but also the rules and regulations on the legal use of closed military zone orders by the security forces in the Occupied Territories.

To download ACRI's full letter, translated to English, click here.
For ACRI's informational leaflet on the rights of demonstrators and freedom of protest in the Occupied Territories, click here.

Following another incident in which a closed military zone order was applied illegally, ACRI has sent another leter to the Military Advocate General on 23 October 2011.