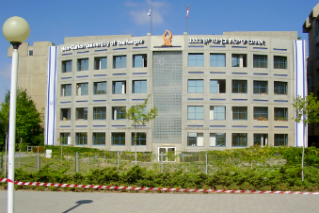 Ben Gurion University. Photo CC by Dr. Avishai Tycher
ACRI in a letter to the President of Ben-Gurion University: "Take Action against Security Personnel Who Harassed Political Activists."

The Association for Civil Rights in Israel (ACRI) demands that Ben-Gurion University investigate and possibly take disciplinary action against security personnel, who harassed students distributing leaflets on campus, and retract earlier statement of support for actions discriminating against freedom of speech of students affiliated with the political left.

The letter to Prof. Rivka Carmi, President of Ben-Gurion University, was sent following a June 15 news report on Israel's Channel 2. In the televised report, Ben-Gurion University's security division personnel are seen harassing students who stand at the gates of the university distributing leaflets supporting the establishment of a Palestinian State. This harassment occurred in the exact same place and under the same circumstances that other students were allowed, without interference, to hand out posters condemning the evacuation of Jewish settlements from the West Bank and to distribute leaflets calling for student participation in the "Jerusalem Unification Day Flag Parade."

In the letter, ACRI Attorney Avner Pinchuk writes: "This is not the first time that the Ben-Gurion University Security Division has flagrantly and egregiously squelched free political speech, especially against ideas that are outside the greater national and public consensus. […] Nevertheless, in last night's news broadcast, we witnessed a new low. In the university's official aired response to the news item, it gave full, unqualified backing to the Security Division and to its actions.

"Of course we have no complaint against the university for allowing right-wing activists to distribute posters on university grounds. This is an exercise par examplar of 'freedom of speech, enabling intellectual pluralism and the free exchange of ideas, which is essential for the flourishing of scientific and academic thought.' But for this very reason, we must vigorously protest the discriminatory approach of the university against the free speech of its leftist students.

"We are concerned that you have not even denounced the profanities shouted by some of these security officials when dispersing demonstrations of Arab students, such as: "Bust his skull. F**k him. Leftist a**hole. We call on you to retract your support for this ongoing harassment, in favor of the values of democracy and fundamental protected freedoms."

To read the full letter (in English), click here.

For further Background on "Restriction of Demonstrations and Harassment of Protesters" (published by ACRI's "Project Democracy"), click here.