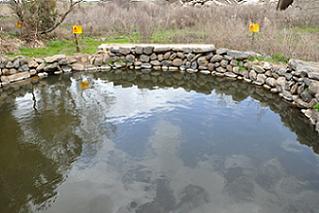 A landmine-surrounded pool
On International Day for Mine Awareness (April 4), the Mine-Free Israel Coalition and UN experts warn that methods currently applied to remove landmines in Israel and the territories under its control are not in accordance with the International Mine Action Standards and may endanger people, animals, and the environment.

Israel is expected to speed up mine clearance, following the enactment (on March 14) of the Minefield Clearance Law (for further details on the new legislation, click here). Methods applied in recent months to clear landmines in the Jordan Valley and the Golan Heights have included the detonation of mines, which caused damage to adjacent structures, and the use of bulldozers to transfer contaminated land from one area to another. In a January press release, an army spokesperson announced that the army is clearing the Mokesh Pool in the Golan Heights to make it safe for the public. A month later, however, the Engineering Corps officer in charge admitted they have only succeeded in clearing about 90% of the mines – significantly below the international standards.

Christopher Clark, Senior Liaison Officer and Technical Advisor of the UN Mine Action Service, is currently in Israel to offer professional advice and experience, in order to maximize the efficiency and cost effectiveness of procedures used by the army and by private companies contracted by the Ministry of Defense to remove minefields. Mr. Clark congratulated Israel on the successful and timely enactment of the bill, and appealed to the Israeli authorities to learn and apply the lessons learned from the global and regional experience of mine removal, so that it is in keeping with IMAS – The International Mine Action Standards: "Applying international standards will not only guarantee that all landmines have been located and removed so that the public will confidently be able to make full use of mine-free lands, it will also reduce costs and improve efficiency. Now that Israel had passed this groundbreaking law, it must ensure that this process will be as safe, cost-effective, and rapid as possible. Insisting on using the approach that the Israel army is already familiar with is quite simply not the way forward".

The Association for Civil Rights in Israel (ACRI) is a leading member in the Mine-Free Israel Coalition. Ehud Uziel, Director of ACRI's International Humanitarian Law Project, said today: "Passing the Landmine Law was a crucial and huge step, and now we must ensure that it is done in a way that will secure risk-free public use of these vast lands. Minefields in Israel and across the world repeatedly kill and wound innocent people, and in order for Israel to uphold International Humanitarian Law it must adopt the accepted standards of removal of this indiscriminate weapon, as has been done elsewhere".