Back to Information Center »

Demonstrations allow citizens to voice their opinions and to have an influence on society. The right to demonstrate and to protest is part and parcel of the right to freedom of expression, and it is entrenched in international human rights law. In the Occupied Territories, the right to demonstrate and protest is all the more important, because the Palestinians residents are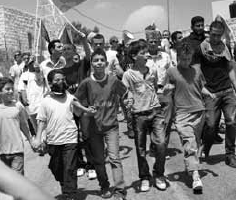 subjugated to the control of the State of Israel, the occupying power, without any access to its centers of political power.

In this situation, demonstrations are a primary means by which Palestinians can make their voice heard and protest against the violation of their rights.
According to international human rights law, it is the obligation of the occupying power to enable the exercise of freedom of expression and protest in the Occupied Territories.
However, in practice, rallies and demonstrations in the territories are deemed as "illegal assemblies," and the military and police treat them as a threat. The majority of these demonstrations are dispersed by security forces using violence and riot control measures, even though past experience shows that some of these could lead to lethal consequences.
The information center for demonstrators in the Occupied Territories is now added to the informational pamphlet about the rights of demonstrators in the territories, published by the Association for Civil Rights in Israel in September 2011. It is another effort to convey the information we have to protesters and activists in the Occupied Territories and to clarify their rights under the current legal situation, hoping to assist them in coping with the ongoing violation of their rights by military and police forces.
It should be noted that according to ACRI, the authorities are not currently upholding their obligations, the sweeping ban imposed on the organization of demonstrations, the unreasonable restrictions placed upon them, and the forceful dispersal of quiet demonstrations represent a serious and severe infringement of the right to demonstrate and freedom of expression, as well as a clear violation of the rules that are incumbent upon the occupying power. Therefore, the rules laid out below do not reflect what we see as the ideal legal situation. Nevertheless, we present this information in the hope that knowing the rules guiding Israeli military and police forces will help demonstrators in the territories to stand up for their rights and will inform them regarding whom to contact when these rights are violated.
Further information:
.
.
.
.
.
.
Here you will find a list of addresses to turn to in cases of such violations.
.