Back to Information Center »

As a result of existing martial law, almost all rallies and demonstrations in the Occupied Territories fall under the broad definition of "an illegal assembly." Military and police forces usually treat these demonstrations as riots that endanger the area's security. Sometimes the demonstrations are dispersed before they even have time to begin. Most demonstrations are dispersed using great force by the different means at the army's disposal.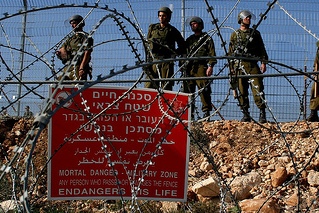 One of the most common pretexts for breaking up demonstrations and protest events in the territories is closing areas by issuing a closed military zone order, based on Section 318 of the Order regarding Security Provisions. Closing an area represents a declaration on behalf of the military commander that entry to a specific area is prohibited, generally or for a specific population, without explicit permission. The declaration obliges anyone who is in this area to leave it, unless this person is a resident of that area. The order does not apply to the residents of an area that was declared a closed military zone.
Declaring a closed military zone could be illegal, if the very decision to issue it is not based on legal reasons or was not legally made, or when the issuing of the orders was carried out in violation of the regulations detailed below.
.
.
.
.