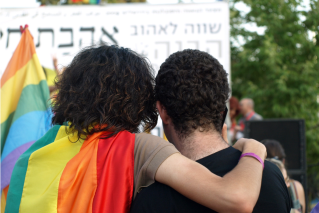 LGBT-CC-BY-Galit
ACRI: We will not reward those who are forcing young people back into the closet.
Today (27.5.2018), together with ACRI and The Aguda- Israel's LGBT Task Force, members and counselors of "Igy", an LGBTQ youth group in Kfar Saba, sued the Sharon regional police in a petition to the Israeli High Court of Justice. The petition calls on the Sharon regional police to permit the first pride parade in the city without burdensome demands on the demonstrators to pay for thousands of shekels worth of security measures.
The pride parade in Kfar Saba was planned by about 50 Igy members following a hate attack on a transgender peer. The organizers decided that it was time to give themselves and their community a sense of security and belonging in the public spaces of their city and began organizing the first pride parade in Kfar Saba.
To grant a permit, the police are requiring the youth to pay for buses that will block intersections and a two-meter fence along the procession route, measures that will cost close to 24,000 NIS. In the lawsuit, the petitioners claim these demands place an unreasonable economic burden on the organizers and violate their right to freedom of expression and demonstration. Furthermore, the petitioners claim that the police are required to ensure the safety of the protesters and to shoulder the costs of security measures in order to guarantee their basic rights of freedom of expression and demonstration.
Sapir Sluzker-Amran, the ACRI attorney who filed the lawsuit said: "The police cannot give into threats and reward violence, bullying, and those who seek to silence the voice of the LGBT community in Israel. The HCJ has already determined on a number of occasions that the police's duty to secure the right to protest includes carrying the costs of security measures. The police response to threats to the demonstrators' safety was to demand that the young protesters pay for security measures to the sum of thousands of shekels.  We will not allow the parade to be cancelled nor will we permit coercion of these teens back into the closet. We will see you in the High Court of Justice."
Maya Hagai, one of the petitioners, a 12th grade student and a member of Igy said: "The parade is important to me because I know there is a teen in my year who is in the closet. Seeing a pride parade along the main street, and seeing so many people who support him, will encourage and empower him; there are studies that demonstrate the impact of a pride parade in a city. I want to live in a city in which you can wave a pride flag in the street. It is not reasonable that the only safe place for us is Tel Aviv, we want to feel safe in the Sharon region too."
Chen Arieli, spokesperson of The Aguda- Israel's LGBT Task Force, said: "The fact that the Kfar Saba police refuse to permit the pride parade with reasonable conditions and is forcing us to sue testifies to the paucity of the law enforcement authorities and Ministry of Public Security. I expect that Minister Erdan will intervene and direct the Kfar Saba police to ensure the parade by all reasonable means."