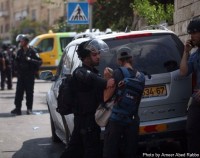 Dear friends,
A few weeks ago, I asked for your support in ACRI's struggle to defend freedom of expression in Israel. Your response was heartwarming, and strengthened our efforts to combat the attacks on freedom of expression in all spheres: the right to demonstrate, freedom of the press, academic freedom, and freedom of expression in the arts.
This week, ACRI submitted a petition to the High Court of Justice against the restrictions the Israel Police imposed on journalistic reporting during the recent events in Jerusalem.
Following the attack on the Temple Mount / Al-Harem A-Sharif, in which two Israeli police officers were killed, hundreds of Israeli, Palestinian, and foreign media crews came to Jerusalem to report on the prayers and demonstrations. The Police imposed restrictions on the entry of media crews to the Old City, claiming that their cameras "create provocations." Several journalists were treated violently by the police forces and suffered injuries. This behavior by the Jerusalem Police, which repeats itself in times of crisis, seriously harms the freedom of the press, the public right to know, and the essence of democracy.
Media reporting is the most effective tool for the public to monitor and criticize the authorities and their actions, and is an important means to protect human rights. I hope the Court will remind the Police that its function and duty are not to restrict the media, but rather to make every possible effort to allow journalists to perform their vital work.
Yours,
Sharon


Adv. Sharon Abraham-Weiss
Executive Director
The Association for Civil Rights in Israel
The petition was submitted by ACRI attorneys Nisreen Alyan and Roni Pelli.