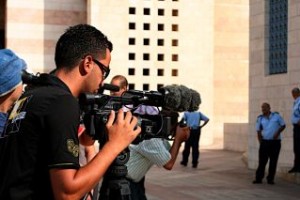 Illustration. Photo by Mirah Curzer, ACRI
The petition claims that restricting press coverage in the Old City of Jerusalem severely harms the freedom of the press.
The Association for Civil Rights in Israel (ACRI) petitioned the High Court of Justice against the Israel Police on July 30th 2017, demanding that it stop restricting press coverage in the Old City of Jerusalem and harming journalists' ability to perform their public duties.
Scores of journalists and photojournalists have been covering the escalation in Jerusalem following the deadly shooting attack in the Temple Mount/ Al-Harem a-Sharif, which took place on July 14th, 2017.
After the attack, police began imposing restrictions on the entry of Israeli, Palestinian and foreign media crews into the Old City, while Israeli Jewish citizens and tourists were allowed to enter the area freely.
The fact that tourists and Israeli-Jews freely entered the Old City while journalists were barred from doing so raises concern that the Police's intention was to prevent the free flow of information through the media on the events taking place and on the Police's handling of those events.
The petition claims that media coverage is the most effective tool for the public to openly critique the government and its actions, and is an important tool for the protection of human rights. When journalists' access is restricted, their ability to cover the Police's conduct is compromised.
"The conduct of the police is worrisome and contrary to all the basic principles of democracy, and instead of senior police commanders instructing police in the field to do everything necessary to ensure freedom of the press, they act to remove journalists," noted ACRI  Attorneys Nisreen Alyan and Roni Pelli who filed the petition.
To read the petition, click here
To read ACRI's initial response, click here