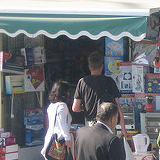 EJ2-CC-BY-NC-SA-Anti-Podean
On 15 May 2017, ACRI petitioned the High Court of Justice on behalf of five shop owners in East Jerusalem against the policy of the Jerusalem District Police  of closing shops and businesses in East Jerusalem following attacks. The shops are closed for many hours and are far from the site of the attacks.
The petition argued that the conduct of the Police is unconstitutional, and that it violates the basic rights of the shop owners. Such actions amount to collective punishment, with the intention of putting pressure on East Jerusalem residents, similar to the many other steps taken by the Police in cooperation with the Jerusalem Municipality over the past two years.
On October 19, 2017, the Court rejected ACRI's petition and ruled that the Police had the authority to prevent access and to close shops in the area of an attack. The Court did not accept ACRI's claim that the conduct of the Police amounted to collective punishment.
To read the petition in Hebrew, click here
To read the verdict in Hebrew, click here
To read the Police's response in Hebrew, click here