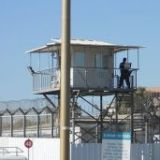 ayalon-prison2-cc-by-sa-zion-halevi
The High Court of Justice has accepted the demands of ACRI and other organizations and issued a conditional order in our petition regarding overcrowding in prisons. The Court ordered the State to explain within 120 days, why they will not increase prisoner living space to 4 square meters (excluding a shower and toilet) from the current average of 3 square meters per person.
ACRI, Physicians for Human Rights, and the College of Law and Business' Human Rights Clinic filed the petition in response to the grave situation in detention centers and prisons in Israel. Overcrowding, which forces the inmates to spend most of their time lying down and prevents them from even stretching their arms, violates the inmates' humanity and their right to dignity. In many countries, courts have already ruled that detaining prisoners in areas of less than 3 square meters per person amounts to cruel and inhumane punishment; which is prohibited under the Convention against Torture, to which Israel is a signatory. However, this is the reality of approximately half of those imprisoned in Israel.
Although the State authorities are aware of the overcrowding and its negative impact on levels of violence and the likelihood of prisoners' rehabilitation, no significant steps have been taken to improve the situation in the last 20 years. The State announced that it will create 200 additional prison cells, however this is a 'drop in the ocean' when considering the severity of the situation.
"We hope that the High Court decision will bring about a fundamental change to the state of the living conditions of prisoners and detainees. The living space assigned to them today is far below the standards of other democratic countries and is also much lower than the standard that the state itself has determined by regulations. Deprivation of a person's liberty by the state must be carried out under appropriate conditions and without prejudice to his humanity, "said ACRI Attorney Ann Suciu, who filed the petition.
To read the petition in Hebrew please click here.
To read the Court order please click here.