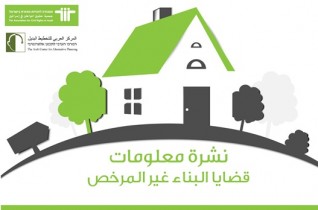 Have you received a building termination order? Have you had an indictment filed against you for illegal construction? What is the difference between a judicial demolition order and an administrative demolition order? How can you navigate the provisions of the Zoning Laws?
The Association for Civil Rights in Israel together with the Arab Center for Alternative Planning have published a new booklet on the subject of construction without a permit in Arab communities. The booklet is written by Attorney Auni Banna, Director of ACRI's Arab Minority Rights Department. 
This booklet is written in Arabic and is intended for Arab residents of Israel. It lists the provisions of the Planning and Construction Law; the procedure for issuing building permits; the sanctions determined by the law for instances of building without a permit according to the stages of the construction process: prior to the beginning of construction, during and after.
The booklet provides additional information on how to legally challenge demolition orders and the different criminal proceedings: grounds of defence, delaying and overturning demolition orders, and how to file appeal (dates and tribunals).
Along with a review of the different sanctions and the system as a whole, the booklet contains the positions of the organizations regarding the proper interpretation of the planning laws from a human rights perspective, and of appropriate enforcement policies with regards to building without a permit due to lack of choice, discrimination in planning processes in Arab communities, the failures of the state and a lack of housing in Arab society.