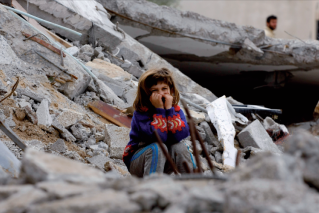 CC By - Iman Muhammad
Following multiple reports of the implementation of the IDF's "Hannibal Protocol" during the kidnapping of Second Lieutenant Hadar Goldin, ACRI has demanded that Attorney-General Yehuda Weinstein instruct the government and the IDF that military operations designed to prevent the abduction of a soldier should not risk the life of the kidnapped soldier and can not involve military activity in civilian locations. ACRI has demanded that an investigation be opened into the use of the "Hannibal Protocol" during Operation Protective Edge.
Excerpts from the letter sent by ACRI's Chief Legal Counsel Attorney Dan Yakir and Director of ACRI's Human Rights in the Occupied Territories Department Attorney Tamar Feldman:
"Extricating a kidnapped soldier from his captors, and preventing a situation in which Israel is forced to negotiate the release of prisoners, are both worthy objectives. However, the means of realizing these objectives need to be legal, reasonable and proportionate. A protocol that puts the life of the captured soldier in jeopardy to thwart a kidnapping is fundamentally unacceptable […] Insomuch as the Hannibal Protocol permits the causing of harm to a soldier to prevent his abduction, or if it can so be construed, then the protocol is illegal."
"Implementing this protocol in populated areas, wherein the soldier and his captors are surrounded by a civilian population that is not taking part in hostilities, is strictly prohibited. Massive and indiscriminate firing towards a metropolitan area in order to block potential escape routes will inevitably lead to a loss of life, as occurred in this instance, and therefore fundamentally violates the principle of distinction in international humanitarian law […] The implementation of the Hannibal Protocol in populated areas fails to distinguish between civilians and combatants and causes needless suffering. It is of our opinion that the use of this protocol in these circumstances constitutes an illegal method of warfare that violates the laws of war."
"A command that subjugates the life of a soldier to an unknown political gain, whose nature and scope are unknown, is both cynical and revolting. It is not for nothing that this protocol has been subjected to severe public criticism over the years, including by senior officials in the security establishment. Activating this protocol in the heart of an urban and civilian environment is particularly grave; it shakes the foundations of law and morality and must be absolutely condemned."
Additional Materials
To read the full letter (in Hebrew), click here.