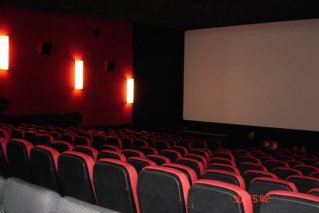 CC-BY: Bombman
The municipalities of Sderot and Be'er Sheva have surrendered to political pressure and prevented the screening of a movie that deals with difficulties of residents of the Gaza Strip. The movie has been pulled despite the fact that Israeli is not referenced in it. The Association for Civil Rights in Israel has reached out to the municipalities to allow the screening to go ahead.
ACRI has contacted the Be'er Sheva and Sderot Municipalities to demand that they reverse their decision to forbid the screening of "Shivering in Gaza" in public shelters. The justification given for the prohibition is that political activities can not take place on municipal grounds. Yet according to ACRI Chief Legal Counsel Dan Yakir, the screening of this movie in no way constitutes political activity.
According to guidelines issued by the Managing Director of the Interior Ministry, no political or party activity shall take place on municipal grounds that are allocated without financial compensation. It is imperative that this phrase be interpreted through a narrow lens so as not to infringe upon freedom of expression. While we must indeed avoid situations wherein political parties make use of public assets to hold political events, this particular instance is an example of crossing into censorship.
"Shivering in Gaza" was shown in the Tel Aviv Cinemateque, yet its screening in the Sderot Cinemateque was cancelled following a campaign of text messages to the mayor by right wing activists. Following this, a similar campaign was waged in Be'er Sheva. On July 12, the intended day of the screening, the municipality's legal adviser, Attorney Chaim Turkel, announced that he had revoked the city's approval for the screening that had been given to the Negev Coexistence Forum for Civil Equality.
Following a request by the Negev Coexistence Forum, ACRI intervened and contacted the municipality to remind Attorney Turkel that according to Negev Coexistence Forum Executive Director Hannah Noach: "the movie contains no references to Israel, and no complaints or grievances are made against Israel. The movie deals only with the unique methods of treatment in post-traumatic situations."
Attorney Yakir added that: "This is an illegal and unreasonable order that violates freedom of expression and the right of the Negev Coexistence Forum to conduct cultural and social activities."
The Negev Coexistence Forum was established 18 years ago to serve as a framework for cooperation between Jews and Arabs. More than nine years ago, when Be'er Sheva Mayor Danilovich was serving as deputy mayor, he assigned the municipal shelter for the activities of the forum.
The claim against the screening is baseless, and it is absolutely clear that this campaign is not the product of municipal residents, but of right-wing activists.