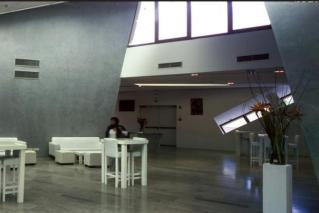 Bar Ilan University. CC-BY-NC-SA; Nikolai Vassiliev
Professor Hanoch Sheinman, a professor of law at Bar-Ilan University, sent an e-mail to his second year students regarding their upcoming Jurisprudence examination, and prefaced his e-mail with the following statement:
"I hope that this message finds you in a safe place, and that you, your families and those dear to you are not among the hundreds of people that were killed, the thousands wounded, or the tens of thousands whose homes were destroyed or were forced to leave their homes during, or as a direct result of, the violent confrontation in the Gaza Strip and its environs. I hope that you, your families and your friends remain safe and healthy until this conflict is over, and onward." 
Soon afterwards, Faculty Dean Professor Shahar Lifshitz sent an e-mail to all those students condemning the lecturer for his comments.
"[the] inclusion of positions as were included in the administrative message sent by Prof. Sheinman to the students on a matter relating to exams does not fit into the framework of academic freedom or freedom of personal expression in any acceptable sense. This constitutes the inappropriate use of the power given to a lecturer to exploit the platform given to him as a law teacher to convey messages reflecting his positions, in a way that, as noted, seriously offended the students and their families. I apologize on behalf of myself, and on behalf of the faculty, that this letter was sent, and I assure you that the matter will be handled with the appropriate seriousness."
The dean additionally demanded that the lecturer apologize for his remarks. In a letter sent by ACRI on 30.07.2014, we strongly protested the dean's stance:
"To feel pain and suffering for the victims of the society to which a person belongs is a human emotion. But it is inhuman to deny the suffering of the other.
It is not Professor Sheinman who deserves to be pilloried in the town square. It is  the students who deserve to be condemned – those students who lodged complaints against him, and whose feeling were hurt by the very mention of another's suffering, even if they consider them to be their enemy. As someone who stands at the head of a human rights and Judaism project at a Jewish and Israeli institute, it falls to you to pronounce loudly and clearly that their values stand in stark contradiction to the values of the law faculty and the university, which are based on basic human and Jewish compassion and ethics. 
In recent week we have witnessed a devastating attack on free speech, an online witch-hunt and harsh comments and violence against any person who supposedly does not conform to the consensus. Most concerning is that this ill omen did not even spare institutions of higher education, some of whom threatened to impose sanctions in respect of views that are considered radical in their eyes.
The response to the words of Professor Sheinman contributes to the atmosphere of intolerance that characterizes this period, and that is intended to intimidate anyone who dares to express an opinion. This environment contradicts the basic values of an academic community."
In response to our letter, the dean reiterated his harsh criticism of the lecturer's comments, but noted in conclusion that:
 "On second thoughts, giving the looming threat facing free expression in different contexts during this period, I would alter my choice of words and omit the sentence where I pledged to address the issue. From my perspective, the essence of the letter was an apology for Sheinman's letter, in my name and the name of the faculty, and an expectation on his behalf to issue an apology as well.  I still believe that it would be right for Professor Sheinman to issue an apology to his students who were offended by the context, style and content of his letter. However, if he decides not to do this, it is not my intention to take any further action in this regard, and I have  announced this intention formally." 
Additional Materials
"Israeli university rebukes professor who expressed sympathy for both Israeli, Gazan victims", Ha'aretz, 29.07.2014.
ACRI's letter to the Dean of the Faculty of Law (in Hebrew).
The dean's response to ACRI's letter. (in Hebrew).