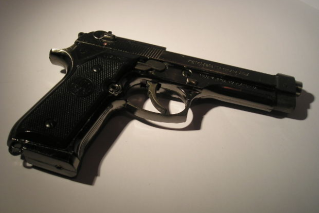 After a long public struggle, new Ministry of Public Security regulations will finally take effect today (27/08/13) that require armed security guards to deposit their weapon with their employer at the end of their shift. In the last decade, security guards' weapons have been responsible for more than 30 murders.
After an ongoing public campaign by the "Gun-Free Kitchen Tables" coalition, and following multiple murders committed by security guards using weapons given to them in the framework of their employment, the Ministry of Public Security issued new guidelines on weapons to security companies. At the end of July 2013, the Ministry announced that starting from August 27, 2013, the new guidelines would take effect, requiring that weapons be stored at the end of each shift at the business being secured (i.e. hotels, banks, shopping malls, etc.)
Since 2008, the law already required security companies to limit the availability of weapons to the area being secured and for the purposes of securing it only, but the law was never enforced. Following public pressure, and a string of murder cases involving security guards, the most recent in which Attorney Natan Jorno and his daughter Yamit were murdered, the Knesset took action. A series of discussions were conducted in the Knesset's Internal Affairs and Environment Committee, chaired by MK Miri Regev, while the Ministry for Public Security began to formulate new guidelines.
Notwithstanding the fact that the new school year is due to begin this week, the guidelines do not apply to educational institutions due to their unique status that forbids the storage of weapons on their property. The Ministry declared that it is working to find a suitable solution to this issue. According to estimates, there are approximately 5,000 security guards who will continue to take their work weapons home with them.
In the weeks leading up to the adoption of the new guidelines, security companies called upon the ministry to postpone the implementation of the new policy claiming that the companies were not yet prepared. Director-General of Israeli Security Association, Pini Schiff, even warned that if the postponement is not granted, guards would have to work without weapons.
In Israel, 290,000 civilian weapons are registered. Of these, approximately 160,000 are registered to private individuals, while the remaining 130,000 belong to organizations such as security companies, weapons dealers, shooting ranges and private settlements. Approximately 43,000 guns are owned by security companies that employ 34,000 security guards.
Attorney Smadar Ben-Natan, founder of the "Gun-Free Kitchen Tables' project: "there is now a consensus, both among civil society organizations and among security officials, that Israel has a problem with the excessive prevalence of arms that are not needed for protection purposes, and in fact have become a threat in itself. If the 'price' of changed regulations is less weapons and less weapons being fired around civilians, then this change will be a positive result."