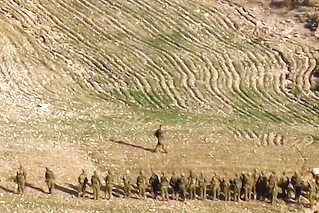 Training in Firing Zone 918. Photo: international activist
IDF exercises cause serious harm to the livelihood and lifestyle of the residents of the Yatta District in Area C.
On January 21, 2013, the Association for Civil Rights in Israel received reports that the Israel Defense Forces were performing training exercises in the fields around Jinba and Tabban at the center of the Yatta District in the area known as Firing Zone 918. Residents reported that the training, which included the use of heavy-duty vehicles, caused severe damage to their agricultural fields and restricted their movement in the area. The training continued and the property damage continued to accumulate in the following days, and so on January 23, ACRI Attorney Tamar Feldman sent an urgent letter to the High Court of Justice Division at the State Attorney's office in the name of village residents of Firing Zone 918 demanding the immediate cessation of such training. Attorney Feldman claimed in the letter that the training is a violation of the court injunction issued on January 16, 2013 in the case of Abu Aram v. Minister of Defense (HCJ 413/13). The injunction order instructed the state to refrain from forcibly transferring any local residents and prohibited any interference in their lives or livelihoods.
After no response was provided to this urgent request, ACRI petitioned the High Court of Justice, in the name of the residents, to rule that the state was in contempt of court, and demanded that the court enforce the injunction and compel the respondents to comply fully.
The state claimed in their response that the training was only "field-craft and transportation training" that "made use of existing roads in the fields and did not trample over sown or plowed fields." They further argued that "the IDF forces that trained in the Firing Zone did not dig trenches… did not place any restrictions on movement in the said area" and "did not pitch tents on sown or plowed fields".
ACRI is in possession of photographs of the fields attesting to the movement of soldiers and vehicles through the fields, the pitching of tents within the fields and of the digging of ditches and canals. In response to the state's claims, ACRI presented the photographs to the court on February 19, 2013, together with affidavits from local residents whose land sustained damage as a result of the training.
For additional information on Firing Zone 918 and ACRI's petition before the High Court of Justice, click here.