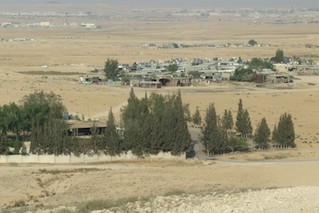 A Bedouin village in Negev (Photo: Ronit Sela)
The "Begin Plan" approved by the Government yesterday (January 27) is essentially an updated version of the Prawer Plan for the arrangement of Bedouin settlement in the Negev that the government approved last year.  It is based on the same improper and discriminatory planning principles, ACRI believes.
Like the Prawer Plan, the Begin Plan is based on a misguided worldview that views the Bedouins as "invaders," ignoring that fact that the majority of the Bedouin villages in the Negev have existed in their present locations since before the establishment of the state and the remainder were created by forced migration under martial law.  Like its predecessor, the Begin Plan seeks to restrict the Bedouin to delineated areas and to implement this policy forcefully.
The government is expected to propose legislation to settle land ownership and advance planning procedures based on the Begin Plan.  If carried out in their current format, such steps will uproot dozens of villages and displace tens of thousands of Bedouin residents, dispossessing them of their property and historical rights to the lands.  Thousands of families will be forced into poverty and unemployment while their community life and social fabric is destroyed.
Concurrent to these initiatives, the government is promoting the establishment of new Jewish communities, some of which are even planned on the sites of Bedouin villages slated for eviction and demolition.
The continued attempts of representatives of the unrecognized Bedouin villages to promote dialogue with the government about these plans have been rejected. To date the residents don't even know which villages are slated for recognition or which will be destroyed.
Attorney Rawia Aburabia, Director of the Rights of the Negev Bedouin Project at the Association for Civil Rights in Israel (ACRI): "An equitable and feasible solution means, first of all, recognition of the fact that the residents of the unrecognized villages are citizens with equal rights. The government must recognize the existing 35 unrecognized villages and introduce a fair mechanism to investigate the land ownership claims in a manner that considers the Bedouin residents' historical ties to lands on which they have lived and worked for hundreds of years."
On April 1, 2012, ACRI and Adalah formally submitted their reservations to the government's original legislative proposal (the 'Prawer Plan'). In a 17-page letter to Minister Benny Begin (the Minister without a portfolio charged with the procedural aspects of this proposal), Attorney General Yehuda Weinstein, Prime Minister Binyamin Netanyahu, and Justice Minister Yaakov Ne'eman, the organizations detailed their objections to the plan, addressing two central issues: the dismantling of the unrecognized villages and forced displacement and relocation of tens of thousands of residents to recognized settlements, and the recognition of Bedouin ownership to lands.
Further Information