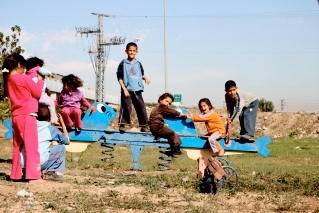 Yet despite legal success, law continues to treat Palestinians differently than Israelis in the same territory
Following a High Court decision of April 24, 2012 on a petition filed by ACRI, the Public Committee Against Torture and Yesh Din against the excessive and discriminatory detention periods applied to Palestinians in the occupied territories, the state announced this week the partial shortening of detention periods for Palestinian minors along with a reduction in the list of offenses designated as security offences in the military's security provisions order.
In accordance with the amendment to the order, which comes into force on April 1, 2013, Palestinian children aged 12-14 may be preliminary held for up to 24 hours before seeing a judge, extendable by an additional 24 hours in special circumstances. Youths aged 14-18 can be held for 48 hours before being brought before a judge (also extendable by an additional 48 hours). Youths aged 16-18 will be tried as adults and can be held for 96 hours before seeing a judge, and under "special circumstances," up to 8 days.
Under Israeli law, which is also applied to Israelis in the occupied territories a minor (even if he is near the age of 18) can only be held for 12 hours before seeing a judge (extendable by an additional 12 hours under exigent circumstances).
The changes to the law, which the state announced on December 20, 2012, join a series of other changes that entered into force during 2012 to shorten the detention periods for Palestinian youth and adults alike. Among other things, the recent amendment cancels the excessive preliminary arrest period of 8 days for youths suspected of all kinds of crimes. Nevertheless, all arrest periods for all categories of crimes and suspects are still significantly longer than the periods for Israelis.
Additionally, beginning in 2013, the long list of offenses designated as security offenses will be reduced. Among others, offenses like "flag waving," "printing of materials with political implications," and possession of "electronic delivery devices without the military commanders' acknowledgment," will be struck from the list. Offenses such as participation in an unauthorized demonstration and throwing stones will continue to be listed as a security offense.
Attorney Lila Margalit, Director of the Human Rights in the Criminal Process Program at ACRI, who filed the petition commented: "The petition succeeded in bringing about a meaningful and important change in the penal system in the occupied territories – a change that partially reduces the serious violation of Palestinian minors' rights to freedom, due process, and dignity. This is one of the first practical steps towards distinguishing between adults and minors in the military legal system. At the same time, our position has not changed: as long as there is any difference between the detention periods that apply to Israelis in the territories and those that apply to Palestinians, the result is grave discrimination and a fragrant violation in the basic right to equality."