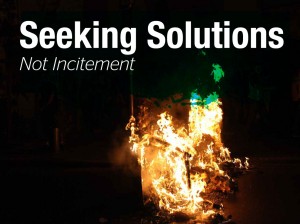 We must face the reality – the Eritrean and Sudanese asylum seekers currently in Israel will not be leaving the country anytime soon, certainly not within the next few years. 
Because of the political situation in their countries, it is impossible for them to return home.
The Israeli government MUST:
• Permit these asylum seekers to find legal work and grant them access to healthcare;
• Invest in the infrastructure of poorer neighborhoods to improve the living conditions for all local residents;
• Establish real working procedures for recognizing these people as political refugees and for handling requests for temporary asylum.
It is the government's responsibility – and not that of neighborhood residents – to find solutions for resolving this crisis.