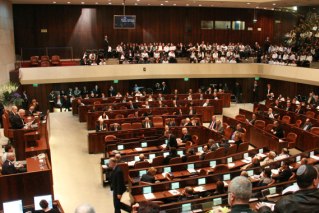 The Knesset plenum, photo by Itzik Edri
Yesterday (9 January 2012), the Ministerial Committee on Legislation voted to support a private bill that seeks to prohibit the use of the word "Nazi" or similar-sounding words, epithets associated with Nazism and the Third Reich, and symbols related to the Nazis or to the Holocaust.

Following the backing of this law by the Ministerial Committee, the Association for Civil Rights in Israel (ACRI) sent a letter to the Minister of Justice, Yaakov Neeman, and to the committee members, urging them to act in order to stop this bill.

In the letter, ACRI attorney Lila Margalit notes that freedom of expression means the right to say difficult things that might be even hurtful. It means the right to give bold and extreme expression to positions, feelings, and thoughts, and also includes the right to make rhetorical use of provocative and harsh images. The question of the social legitimacy of the use of Holocaust symbolism in the public and political discourse is indeed a big question, which deserves a robust and free public debate; it is not a question that should be handled through criminal law.

According to ACRI, it is precisely because of the importance and gravity of the Holocaust that the attempt to dictate how and in what contexts it can be discussed is particularly egregious. This bill aims to forcibly control the public discourse in Israel, its content, and its tone – by way of criminal prohibitions and threats of detention.