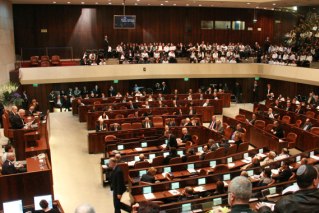 The Knesset plenum, photo by Itzik Edri
Last night (11 July 2011), the Knesset plenum passed the Boycott Prohibition Bill in its final reading, with 47 MKs in favor and 38 against.

This law will enable the filing of civil lawsuits against individuals who call for boycott of settlement products. The Association for Civil Rights in Israel (ACRI) is strongly opposed to this unconstitutional law, and will therefore file a petition against it to the Israeli High Court of Justice demanding to disqualify this law. At the same time, ACRI is reviewing ways to protect Israeli individuals who will realize their constitutional right for freedom of expression, on any matter, and will be subsequently sued for damages.

The Knesset vote went ahead despite the fact that on the same day, the Knesset's Legal Advisor, Attorney Eyal Yinon, warned that it constitutes a severe violation of freedom of expression and would likely fail to stand up to the challenge in the High Court of Justice.

Despite Yinon's contradiction of Attorney General Yehuda Weinstein's assertion that the law, while borderline, is constitutional after its amendments, the Knesset decided to go ahead with the vote and it passed.

ACRI has voiced major concern about this bill throughout its legislation process – explaining the dangerous precedent that it sets for limiting freedom of expression, which is not befitting of a democracy. The following are key points from ACRI's position:

Boycotting as a means for advancing a cause falls under the protection of freedom of expression and protest, conscience, and opinion. Protecting opinions that are not part of the consensus is at the heart of democracy.

Israelis and other people around the world use boycotts to protest various causes, such as boycotting companies that violate labor rights. It is a legal, nonviolent tool of protest. Singling out those who work against the occupation, by using anti-boycott legislation, is a dangerous use of the legislative process. It is an anti-democratic step intended to create a chilling effect on civil society.

Most countries have chosen not to promote legislation dealing explicitly with prohibition of boycotts. Even those who do – such as the USA and Germany – do not limit individuals and civil society organizations from organizing boycotts against various targets, as this is a clear violation of freedom of expression. Legislation in the USA refers only to boycotts announced by countries and focuses on preventing harm to international trade of corporations. Furthermore, the American law relates to corporations and not to individuals or groups, and grants special protection to the boycott as an expression of conscience.

Israeli parliamentarians have referred to comparable anti-boycott US legislation in an attempt to green-light the process for passing the Israeli legislation. ACRI has put together a comparative analysis of the US and Israeli legislation, highlighting the major differences between the two laws – mainly that the US boycott ban restricts participation in a government call for boycott, and not individual calls or civil society calls. Furthermore, in the US the federal government is responsible for enforcement, whereas in Israel private bodies can sue for damages using this new legislation as grounds for the lawsuit.

Further background:

Full translation of the Boycott Prohibition Law
ACRI's position on the bill, sent to the Chairperson of the Knesset Constitution Committee
ACRI info sheet on the Anti-Boycott Bill (February 2011)
A comparative analysis of the US and Israeli boycott legislation

ACRI in international media:

New York Times: Israel Bans Boycotts Against the State
AFP: Israel MPs vote through settlement boycott ban
BBC: Israeli lawmakers pass West Bank settlement boycott law
Reuters: Israel passes law punishing settlement boycotters
Guardian: Israel passes law banning citizens from calling for boycotts