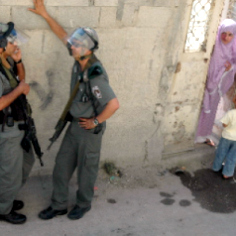 Israel Border Police in East Jerusalem
The Association for Civil Rights in Israel (ACRI) intervened today (19 May 2011) before the new Jerusalem District Commander Niso Shaham asking him to guarantee that a full and thorough investigation is carried out into the death of Milad Ayash, 16, from Silwan, who suffered fatal gun shots last weekend during clashes in East Jerusalem.

In the letter, ACRI Attorney Nisreen Alyan stated that although eight months have passed since Silwan resident Samer Sarhan was shot and killed by a security guard hired by the Housing Ministry to protect Jewish settlers in Silwan, the result of that investigation was never published and it remains unknown which if any steps were taken against the security guard.

ACRI also asked Jerusalem Police's new commander to ensure that riot control is carried out as carefully and sensitively as possible. Wounds suffered by several people over the weekend suggest that rubber bullets were put to use in violation of police regulations and were fired from close range. Two homes in Silwan were set ablaze after teargas canisters penetrated them.  The letter took note that last September a baby suffering from asthma, Mohammed Abu Sara, died in his home in Issawiya, allegedly after inhaling teargas that was widely used in the area and which penetrated the house.

Attorney Nisreen Alyan of ACRI: "The new Jerusalem District commander should make it his prime responsibility to learn the lessons of past events and take the necessary steps to create a change for the better in the way Police operate in East Jerusalem".