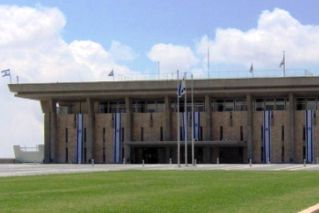 Photo CC by Joshua Paquin
On March 7 2011, the Prohibition on Instituting a Boycott Bill passed its first reading in the Knesset plenum, supported by 32 MKs and opposed by 12 MKs.
Prior to this vote, 53 Israeli human rights and civil society organizations sent a letter to MK Reuven Rivlin, the Speaker of the Knesset, and to MK David Rotem, Chair of the Constitution, Legislation, and Law Committee, expressing their strong opposition to this dangerous bill.
The signatory organizations work on a wide range of human rights issues, among them social rights, workers' rights, feminism, and peace, and include the Association for Civil Rights in Israel, B'Tselem, Gisha, Amnesty Israel, Adva Center, Coalition of Women for Peace, Physicians for Human Rights, Rabbis for Human Rights, Yesh Din, New Israel Fund, and Hotline for Migrant Workers.
In their letter, the organizations state that they hold differing views regarding the use of boycotts: some believe boycotts are an effective tool, while others strongly object to boycotts. However, all of them agree that boycotts are a civic, non-violent, and legitimate means to express opinions and to promote social and political change.
"The bill clearly seeks to restrict the activity of only certain political opinions and groups, solely because their dissent challenges the current political consensus in Israel. Rather than conduct a democratic debate on issues on the public agenda, the bill serves to silence political rivals and to make a public debate impossible. This bill is dangerous, as it tramples fundamental rights, primarily freedom of expression, the right to protest, and freedom of assembly."
According to ACRI, Israelis and other people around the world use boycott to protest various causes, such as boycotting companies that violate labor rights. It is a legal, nonviolent tool of protest. Singling out those who work against the occupation, by using anti-boycott legislation, is a miserable use of the legislative process. This is an anti-democratic step, intended to create a chilling effect on civil society.
For further background on the bill and ACRI's position, click here.
For an English translation of the bill, click here.