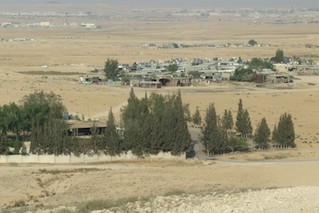 A Bedouin village in Negev (Photo: Ronit Sela)
Tabled by: Government.
Status: Passed first reading.

The Knesset plenary voted on June 24, 2013, in favor (43 – 40) of the Bill on the Arrangement of Bedouin Settlement in the Negev, known as the "Begin-Prawer Plan" in its first reading. The bill will now proceed to committee.
The Association for Civil Rights in Israel (ACRI) and Bimkom – Planners for Planning Rights reiterate their strong opposition to the plan, which in its current form will only aggravate the alienation and discrimination of Bedouin residents of the unrecognized villages in the Negev.
The Begin-Prawer Plan, as it currently stands, will cause the displacement and forced eviction of dozens of villages and tens of thousands of Bedouin residents, dispossessing them of their property and historical rights to their lands, destroying the social fabric of their communities, and sealing the fate of thousands of families into poverty and unemployment. All of this while the government simultaneously promotes the establishment of new Jewish communities, some of which are even slated to be built on the ruins of Bedouin villages.
ACRI and Bimkom call on the government to promote planning and recognition for all the unrecognized villages in order to secure the basic rights of Negev Bedouin citizens of Israel.
Related Materials
Information Sheet: Israel Ignores Bedouin Needs with Begin Plan
In-depth look at the problems with the bill (prepared by Bimkom and ACRI)
Bill receives approval from Ministerial Committee on Legislative Affairs (May 6)
Joint letter from ACRI and Adalah to the Ministerial Committee on Legislative Affairs on Begin Plan
Read the Begin Plan in English (unofficial translation)