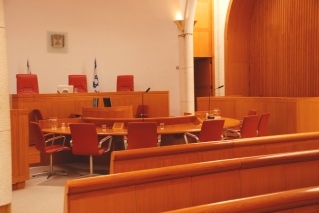 Photo by Melanie Takefman
At a hearing on February 26, on a petition filed by the Association for Civil Rights in Israel (ACRI) and Itach-Maaki: Women Lawyers for Social Justice, Supreme Court President Asher Grunis stated that the lack of representation for Arab citizens and the under-representation of women on the Israel Lands Administration (ILA) Council is not acceptable, and ordered state representatives to present a solution within 45 days. Justice Grunis also noted that if the state's proposal does not satisfy the concerns of the justices, the Court will issue an opinion without an additional hearing on the petition.
The petition, filed in 2010 by ACRI Attorney Rawia Aburabia, demands the appointment of permanent members to the ILA Council who are women and Arabs at a ratio that ensures fair representation of these populations.
The ILA, headed by the council, holds extraordinary executive power as the body responsible for 93% of lands in the country. Prior to 2009, the council included academics and public representatives, and following a petition filed by ACRI, two Arab members were appointed. But in 2009 the law was amended such that aside from two representatives of the Jewish National Fund (who are necessarily Jewish), all of the council members are now government representatives – for the most part, director generals of government offices. Of the ten current council members, there is just one woman – the director general of the Ministry of Justice – and no Arabs.
ACRI Attorney Auni Banna represented the petitioners in the hearing. "The State of Israel continues to betray its responsibility to grant fair representation to Arabs and women. It appears the Justices also reasoned that consenting to the state's attempts to avoid its obligations would create an opening for systematic violation of the law and perpetuate the exclusion of minority and disadvantaged groups from decision-making centers."
Attorney Anat Tahon-Ashkenazi of Itach-Maaki: "The Israel Lands Authority is one of the most powerful public bodies in the country, and the decisions of its governing council have a direct bearing on our lives – whether on issues of planning, housing costs, or even our health. The management of a body like this there must include representation of the entire population and the different interests within it."
Update: In April 2017, the Knesset approved an amendment to the Israel Lands Authority act requiring the Minister for Social Equality to appointment of an Arab member to the authority. This is the first time since the establishment of the State of Israel that such an appointment will be made to the ILA on behalf of the Arab minority.
Related Materials
The petition and subsequent court documents (in Hebrew).
ACRI petition to include Arab members on Negev committees of inquiry.