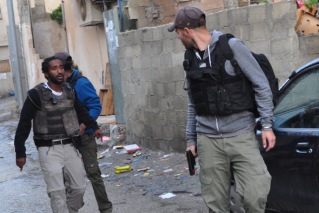 Security guards in East Jerusalem (Photo by ACRI)
The High Court of Justice is preparing to hear arguments on a petition brought by Arab residents of East Jerusalem against the state's funding of private security guards to protect Jewish residents in several East Jerusalem settlement compounds.
About 370 private security guards in the state's employ are active within the borders of Jewish settlement compounds in East Jerusalem that are home to approximately 2500 residents. The 67 million shekel annual budget for securing these settlements comes from the Ministry of Housing. The petition, filed by the Association for Civil Rights in Israel (ACRI) in October 2011 on behalf of itself and the Arab residents, alleges that the security guards employed by the state are a de facto private police force in the exclusive service of Jewish residents.
Although Palestinian residents living in the same neighborhoods are entitled to the same security, protection, and maintenance of public order, the private guards are only tasked with the defense of the Jewish residents. Moreover, the guards have been operating under the perception of Arab residents as threats to their clients, as evidenced by the killing of Palestinian resident Samar Sarahan by one of the guards, and several other cases of injury, some if which are detailed in the petition.
Tomorrow will be the second hearing on the petition. Following the prior hearing, in December 2012, the Court issued an order nisi instructing the state to explain why the Housing Ministry – and not the Internal Security Ministry – should have the authority for security arrangements in the Jewish settlements of East Jerusalem, and why the authority granted to the security guards should not be reexamined.
ACRI Attorney Keren Tzafrir: "The Jewish residents are entitled to protection, but so are their Palestinian neighbors. Unlike the police, which are responsible for keeping public order and obligated to act for benefit of all residents without discriminating, the settlers' armed guards, funded by taxpayers, are committed only to the defense of one party in the tense reality of East Jerusalem."
Related Materials
Excerpts of the petition (English).
Full petition (Hebrew).
Background information about the December 2012 hearing (English).