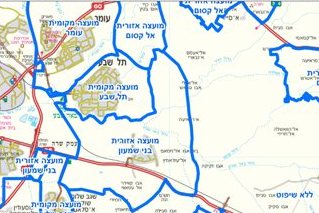 No Arabs were appointed to Interior Ministry committees tasked with stabilizing revenue gaps among regional councils in the Negev
The Association for Civil Rights in Israel (ACRI) filed a petition to the High Court of Justice yesterday (December 17) demanding that the Minister of Interior include Arabs on its committees of inquiry for redistricting and revenue sharing in Israel's southern communities.
In July 2013 the Interior Ministry announced that three committees of inquiry would be appointed to examine the municipal boundaries of the regional and local councils in the Negev and their respective control over "revenue generating" regions housing industrial zones, tourist attractions and infrastructure. The committees were commissioned to recommend changes to the councils' boundaries that will facilitate more equitable distribution of revenues among the different councils of the Negev. Each of the inquiry committees is comprised of seven members, and none of them is Arab.
The petition argues that the failure to appoint Arabs to the committees constitutes a violation of the right of equal representation for Arab citizens in public bodies and committees. This right was established to advance equality among Jews and Arabs after many years of Arabs being excluded from decision making processes. The inquiry committees' mandate to correct decades of injustice in the distribution of revenues amongst Negev local councils – injustice that the Bedouin Arab residents bore the brunt of – makes the lack of Arab representation especially poignant.
The regions being examined by the committees include the Bedouin townships of Kuseife, Segev Shalom and Ar'ara, as well as the communities of the Al-Kasom and Neve Midbar Regional Councils. These communities are all consistently ranked at the bottom of socio-economic indicators. All lack industrial zones or tourist attractions, and most do not have land reserves for future development and expansion. Moreover, a large percentage of the residents of these towns live in poverty and receive arnona (municipal tax) subsidies, further weakening the revenue base. It's therefore no surprise that all these communities carry budgetary deficits and require balancing funds from the Interior Ministry.
ACRI Attorney Nisreen Aylan submitted the petition. "Of the 47 committees of inquiry commissioned by the Interior Ministry since 2010, only 9 of the 171 members appointed have been Arabs. It is commendable of the Interior Ministry to address the longstanding inequity between different communities in the Negev, but justice must be made for everyone, Jews and Arabs alike. Committees appointed to promote distributive justice among councils and citizens in the Negev must reflect justice within themselves, by means of fair and equal representation in the decision making process."
Related Materials
The full petition (in Hebrew).