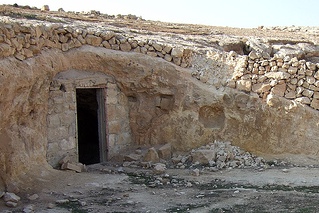 CC-BY-NC-SA: delayed gratification
On September 2, 2013 the High Court of Justice (Court President Asher Grunis and Justices Hanan Meltzer and Daphne Barak-Erez) held the first hearing in the renewed petitions against the forced eviction of 1,000 residents of the area known as Firing Zone 918 in the South Hebron Hills. At the close of the hearing the Justices suggested that the parties enter a mediation process in order to reach a mutually agreeable settlement.
Representatives of the petitioners, Attorneys Tamar Feldman and Dan Yakir of the Association for Civil Rights in Israel, and Attorney Shlomo Lecker, agreed to the Court's proposal, while noting that the previous petitions had also been sent to mediation, which lasted three years and yielded no solutions.
The State Attorney requested time before deciding whether to agree to a mediation process, and was given until October 7 to do so. Court President Grunis repeatedly told the State Attorney that the Court expects the State to agree.
The justices suggested that former High Court Justice Professor Yitzhak Zamir for the role of mediator, but noted that he has not yet been contacted with respect to the position.
Attorney Tamar Feldman, Director of the Human Rights in the Occupied Territories at ACRI, who represented the petitioners: "The petitioners welcome the High Court of Justice's decision to appoint a mediator, and believe that this indicates that the Court was not satisfied with the respondent's claims. We hope the State will agree to participate in mediation and offer reasonable proposals that bring forth a just solution that meets the needs of the residents of the villages in the area."
Related Materials
Background Information on ACRI's petition before the High Court of Justice.
Firing Zone 918 – What's the Deal? – Interactive Q&A.
Fact Sheet on the 12 villages that make up Firing Zone 918.
Anthropological Expert Opinion on the history of Firing Zone 918.