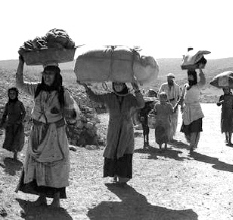 Photo CC by gnuckx via Flickr
Tabled by: MK Alex Miller (Yisrael Beitenu) on 1 April 2009

According to the original version of this bill, persons publicly commemorating the Nakba Day as a day of mourning shall be sentenced and sent to prison. The government endorsed the bill, but in the wake of public protest an amended version was presented.

The amended version does not target individuals, but rather municipalities, organizations, and public institutions. Officially titled "Budget Foundations Law (Amendment 40) – Reducing Budget or Support for Activity Contrary to the Principles of the State," it authorizes the Minister of Finance to relinquish monetary support if the body or institution has made any payment towards an event or action that undermines the "existence of Israel as a Jewish and democratic state," violates the symbols of the State, or marks the date of Israel's establishment "as a day of mourning." In a debate held in the Knesset's Constitution Committee, Chairperson MK David Rotem (Yisrael Beitenu) stated that such a day of mourning does not necessarily have to coincide with Israel's official Independence Day, and thus any reference to the Nakba made throughout the year may fall within the category of this law. The vague wording of the law, and the fact that it gives the Minister of Finance the power to determine its implementation, raises concerns that the law will be enforced in a discriminatory manner, which will enhance the already existing oppression of Arab citizens of Israel.

This amended version was approved in its final reading in the Knesset plenum on 22 March 2011, and was added as an amendment to the Budget Foundations Law.

On 4 May 2011, ACRI and other human rights organizations have filed a petition to the High Court of Justice, requesting to disqualify this law. In the petition, Attorneys Sawsan Zaher and Hassan Jabareen of Adalah, and Attorney Dan Yakir of ACRI, outlined the infringements on freedom of speech, freedom of political expression, freedom of artistic expression, the right to equality, the right to education, academic freedom, group dignity, and freedom of occupation.
To read excerpts from this petition (translated to English), click here.

1 April 2009: Bill presented in the Knesset
16 March 2010: The bill passed the first reading.
22 March 2011: The bill passed its second-third (final) reading.
4 May 2011: Petition filed by ACRI and others to the High Court of Justice to disqualify this bill.

Status: Bill has been enacted as a law.