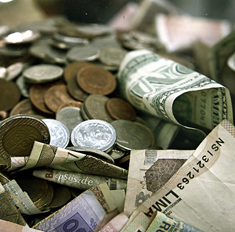 Presented by: MKs Ofir Akunis (Likud) and Fania Kirshenbaum (Yisrael Beitenu) on 30 November 2011 (as a new version of earlier legislation)

This bill, officially titled "Bill on Income of Public Institutions Receiving Donations from a Foreign State Entity (Legislative Amendments)," combines the prior two NGO foreign funding bills put forward by MKs Ofir Akunis and Fania Kirshenbaum into one larger bill with several new addenda.

This hybrid bill divides all NGOs receiving funding from foreign state entities into three categories: (1) Those that will be completely banned from receiving it; (2) Those that will be allowed to receive it by virtue of being also funded (now or in recent years) by governmental sources in Israel; (3) All the rest – which will be taxed (on this kind of income) at a 45% rate, unless they get a waiver from the Knesset. ACRI and many other human rights NGOs will fall under the third category. As a matter of principle, ACRI never seeks nor receives governmental funding in Israel, in order to maintain our independence. Therefore, ACRI will have to submit itself to a political tribunal of MKs and ask for a waiver from the tax. Needless to say – we will not agree to do that.

On 6 December 2011, ACRI sent a position paper sent to Prime Minister Binyamin Netanyahu and to Minister of Justice Yaakov Neeman, stating that: "The new version of the bill, as in its previous incarnations, is a thinly veiled attempt to harm those legitimate civil activities frowned upon by the current political majority. The domestic nongovernmental organizations that are the intended target of this legislation primarily deal with human rights in the Occupied Territories, opposing the occupation, protecting the minority rights of Israel's Arab population, and the like – which is to say that they hold positions inconsistent with the political agenda of certain MKs and government ministers who would attack them.

"A democratic state, insofar as it wishes to be a democracy, must guarantee freedom of speech and freedom of association as well as a pluralism of thoughts, opinions and civil activities. A democracy may not restrict political, social or other civil activity on the basis of the political or religious ideology of one sector of its society. It must not take advantage of the majority's political power at any given time to remove from the public stage those people and organizations with whom it disagrees. Such actions cannot be characterized as "defensive democracy," they are simply anti-democratic."

In early December 2011, Attorney General Yehuda Weinstein has informed Prime Minister Netanyahu that this bill is unconstitutional, and that therefore – should the Knesset pass this bill he will not defend it in court. The bill is not currently being promoted, apparently because of this harsh criticism.

30 November 2011: Bill is presented.

Status: Bill is awaiting its preliminary reading in the plenum; it is currently not promoted.