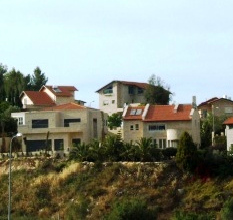 Tabled by: MKs David Rotem (Yisrael Beitenu), Israel Hasson (Kadima), Shai Hermesh (Kadima) on 11 February 2009

According to this bill, acceptance committees to villages and communities may turn down a candidate if the committee decides that the candidate "fails to meet the fundamental views of the community," its social fabric, and so on. The bill primarily intends to deny ethnic minorities' access to Jewish communities set up on predominantly public lands, offering the possibility to reject anyone who does not fit in with the committee's positions, religion, political views, and so on. Acceptance committees already existed as a common discriminatory practice before this bill (and ACRI has already filed a related petition against this practice, which is still pending before the High Court of Justice); however, this law now legally anchors this discriminatory practice.

The original version of the bill applied to communities of up to 500 family units throughout Israel. Following public outcry regarding this bill, a compromise was reached between the Knesset Speaker MK Reuven Rivlin (Likud) and the MKs who proposed the law – to apply the law to the Negev and Galilee regions alone, and to apply it to communities of up to 400 family units instead of the original 500. This amended version was approved by the Knesset Constitution Committee on 2 February 2011, and the bill was approved in its final reading in the plenum on 22 March 2011.

Following the approval of the bill, ACRI submitted a principled petition on the matter, together with the Abraham Initiatives Fund and local residents from Misgav. In the petition, ACRI Attorney Gil Gan-Mor notes that despite their title, in the majority of these communal villages life is not "communal" and they have no unique characteristics; and yet the law will enable discrimination in acceptance to these villages based on vague criteria. Based on these criteria, the committees currently reject "unwanted" communities that wish to live in the village – such as Arabs, single parents, disabled persons, same-sex couples, Mizrachi Jews, religious people, new immigrants, and so on.

11 February 2009: Bill presented in the Knesset.
21 July 2010: Bill passed it first hearing in the plenum.
2 February 2011: The Constitutional Committee approves an amended version of the bill.
22 March 2011: Bill passed its second-third (final) vote in plenum.
23 March 2011: Petition filed by ACRI to the High Court of Justice to disqualify this bill.

Status: Bill has been enacted as a law.