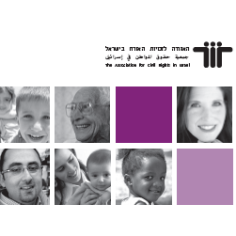 Family Unifications
You have reached ACRI's archive, updated with our activity up until 2018. For more recent posts, please visit our current website here.
Since the Second Intifada, the Citizenship Law has made it more difficult than ever for Palestinians to become permanent residents or citizens of Israel. As a result, those from the West Bank attempting to obtain residency or citizenship must meet an extensive set of criteria, while for Arabs from a number of countries, including from the Gaza Strip, this has been banned outright. In addition, the practice of retracting the permits of current Arab residents, particularly of East Jerusalem, has made it increasingly challenging for those who have received permanent residence status to maintain it. Ultimately, both of these policies threaten most prominently the process of family unification.
ACRI has petitioned against the Citizenship Law on the grounds that it is blatantly discriminatory and that it uses the guise of security to solve what the state sees as a demographic problem. ACRI has also challenged the policy of retracting permits of permanent residents, especially those residing in East Jerusalem, arguing that the current policy in effect imprisons residents if they want to maintain their status.
Legal Work
January 12, 2012

Last night (11 January 2012), a bundle of four high court petitions against the "Citizenship Law" were rejected in their … Read more…

April 10, 2011

In a petition submitted to the High Court of Justice on 7 April 2011, HaMoked: Center for the Defense of … Read more…
Publications
November 2, 2011

On 30 October 2011, ACRI presented a shadow report to the United Nations Committee on Economic, Social, and Cultural Rights. … Read more…
Policy Advocacy
April 23, 2013

The Knesset has approved a further extension of the "temporary" order known as the 'Citizenship Law' (83 votes … Read more…