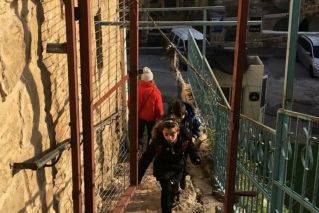 The Stairway in Hebron. Photo by: Issa Amro
The Association for Civil Rights in Israel submitted a petition to the High Court of Justice (HCJ 3043/18) on 16 April 2018, demanding that a flight of stairs near Cordova School in Hebron be open to Palestinians and not limited to Israelis and tourists. Previously, the stairway was used regularly by Palestinians going to and from Tel Rumeida neighborhood, located in H-2, the part of Hebron under full Israeli control. In December 2015 soldiers began preventing the passage of Palestinian residents, limiting it to schoolchildren in the morning and afternoon hours, as well as allowing access to one of the Palestinian families living nearby.
Presently, soldiers stationed at the bottom of the stairway hold a list of some of the Palestinians residing in the nearby neighborhood of Tel Reumeida who are allowed through the flight of stairs, while every other Palestinian, including the other residents of the neighborhood, are not allowed through. This limits access of family members and friends of Tel Rumeida residents, as well as service providers that the residents require such as doctors, social workers, technicians, delivery men, etc. Palestinians who are not allowed to use the stairway are forced to reach Tel Rumeida through longer paths, which pass through a field and private lands of residents. These paths are a significantly longer detour, requiring walking and climbing that can be difficult for some. While Palestinians suffer from this limitation, free access is unlimited for Israelis and tourists.
ACRI examined the list of military-issued orders that restrain freedom of movement in H-2, and discovered that no order was issued to prevent Palestinians' access to the Cordova stairs. In the petition ACRI argues that the soldiers' practice of barring Palestinian movement is therefore done without proper authorization. The military issued a new order following the submission of the petition, which limits Palestinian movement through these stairs.
In addition, ACRI argued in the petition that closing the flight of stairs in a way that discriminates against Palestinians is a violation of the obligations of the military commander under International Humanitarian Law to respect and protect the rights of the Palestinian population living under occupation.
According to ACRI Attorney Roni Pelli who submitted the petition, "For years, Hebron has suffered from institutionalized segregation. In H-2 entire roads are closed-off to Palestinian residents of the city and the previously bustling city center has become a ghost-town. Any further limitations on Palestinians' freedom of movement entrenches this segregation and makes their lives even more unbearable."