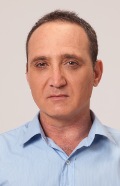 Attorney Avner Pinchuk
Attorney Avner Pinchuk focuses on issues relating to freedom of expression, freedom of association and the right to privacy. He practiced civil law for nine years at a private law firm before joining ACRI's legal department in 2002. Mr. Pinchuk received his Bachelor's degree in Political Science and Psychology from the Tel Aviv University, and holds an LL.B. (Magna Cum Laude) and an LL.M. in Society, Politics, and Law from the same university.
Avner was appointed by the Minister of Justice as a member of the Public Council for the Protection of Privacy.